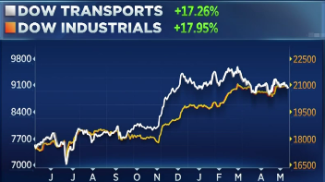 A classic market theory predicts a problem for the rally
This chart watcher says a classic market theory could presage a 15-20% drop in stocks:  Ralph Acampora, also known as the godfather of technical analysis, explains to CNBC why a pause in the rally is coming.  *JB*
The godfather of technical analysis says one classic theory is predicting a sell-off before another market rally will take place.
"Dow theory" is a name given to the simple idea that the Dow Jones Transportation Average ought to "confirm" the strength seen in the Dow Jones Industrial Average. If the Dow components rise to a new high while the Dow transports stagnate, a market dip could be ahead, the theory goes.
On Friday, all three major market indexes fell for a second day in a row. Currently, the transports index is trading well below its March 1st high, while the industrials are close to record levels.
This divergence signals that "on a short-term basis, it's a pause [ahead]," said Ralph Acampora, director of technical research at Altaira Capital Partners.
There have also been divergences within the major indices.
"The leadership [in the market] got fractured in the last few months," Acampora said on CNBC's "Futures Now." last week. "We got tech at new highs, and you've got telecom making new lows and the financials are flat."
The market expert also states that should the Dow Theory prove true, "You could have a little bear market [where stocks drop] 15 to 20 percent."
At the same time, Acampora says that "it's not the end of the world" and that he remains "a secular bull." According to Acampora, he would stay long the market as long as the Dow "stays above 20,404" and the transports "stay above 8,874," which he identifies as key closing levels for both indexes.
In fact, Acampora believes that should a sell-off of that magnitude occur, it would be "one heck of a buying opportunity" for investors.