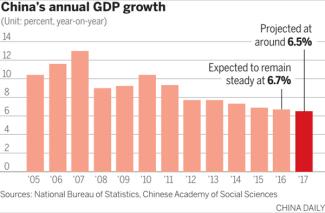 China GDP growth slows in third quarter
China's growth numbers came in essentially as expected with fixed government investment being pulled back, offset by stronger retail and business investment - which is good.  The big event to watch is the party conference coming up.  China's current leadership is expected to consolidate authority.  **JB**
BEIJING--China's economy slowed in the third quarter of the year, as Beijing's efforts to cut debt levels and curb property speculation started to eat into overall growth.
China's gross domestic product expanded by 6.8% in the July-September period from a year earlier, decelerating from a 6.9% gain in the first half of the year, the National Bureau of Statistics said Thursday. The figure matched a forecast by economists polled by The Wall Street Journal.
The latest figures come as the Communist Party holds its five-yearly congress to determine the leadership team around President Xi Jinping and the party's direction for the next half-decade and beyond. Mr. Xi emphasized the government's steady handling of the economy in his opening speech on Wednesday.
The data also showed that in the third quarter China's GDP grew 1.7% from the previous three months on a seasonally adjusted basis, compared with a revised expansion of 1.8% in the second quarter. In July, the statistic bureau said China's economy grew 1.7% in the second quarter from the previous three months.
Click here for free access to 100's of articles for your clients
The on-quarter figure, a closer measure of recent momentum in the economy, also points to slightly weaker growth in the three-month period.
China's fixed-asset investment slowed in September while the monthly industrial output and retail sales picked up speed, according to official data also released on Thursday.
Overall the data suggest China will still easily meet its goal of at least 6.5% growth in 2017. But it now looks unlikely that the economy will grow by 7% in the second half, a possibility put forward by Zhou Xiaochuan, the head of China's central bank, earlier this week.
Analysts had expected the economy to eventually slow this year after two quarters of unexpectedly firm growth as measures to tackle credit growth started to bite, as seen in the recent cooling of the domestic housing market.
Still, some of them said the economy's resilience in the first part of the year indicated that Beijing still favored supporting growth over its efforts to trim debt levels and cut excess industrial capacity.
--Liyan Qi and Grace Zhu, MarketWatch